The Culinary Arts and Local Food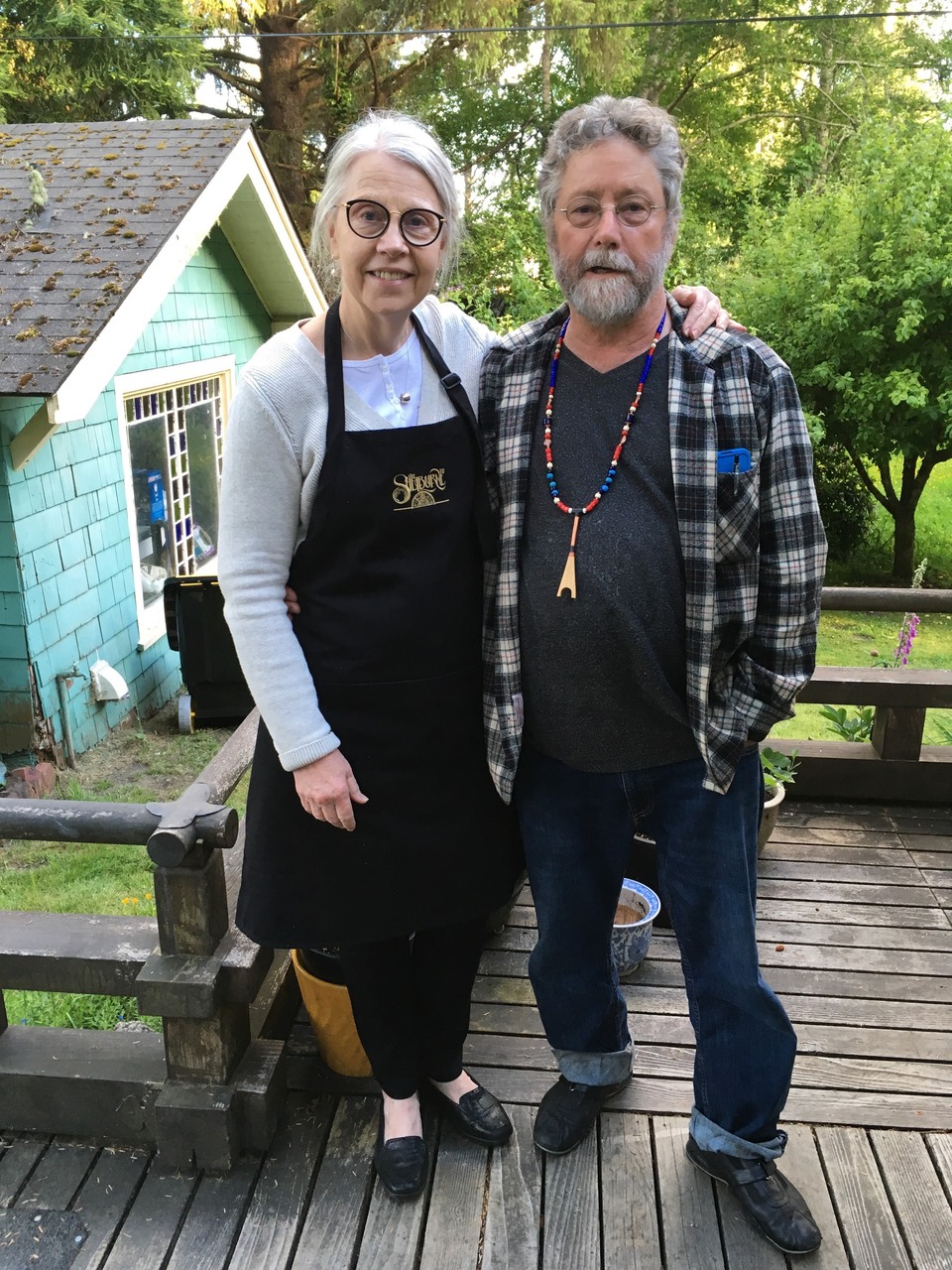 July 13, 2017
For years and years, my husband and I have visited a magic place on the Washington coast called the Shelburne Inn. It was first recommended by a friend of the chef at the restaurant, at that time called the Shoalwater, but we soon fell in love not only with the food and the brilliant, clean light sweeping up and down the wide beaches, but with innkeepers Laurie Anderson and David Campiche. Laurie always appears calm and collected in the midst of the storm. David is always happy to slip away for a moment for a glass of beer or wine. In my book The Deepest Roots, I credit them with making me aware of the abundance of local food that can be grown, purchased or foraged year-round in Washington State. David grew up on the Long Beach Peninsula, and met Laurie when she got her father's truck stuck in the deceptively soft sand on the beach.
Three grown-up boys between them, a variety of dogs and thousands of happy guests later, Laurie and David are taking their knowledge of local food into the classroom through a cooking class held at the local Grange hall. During a recent visit, I took the opportunity to ask Laurie about these classes:
When we visited the Shelburne Inn in June, you and David were teaching a farm to table cooking class at the Grange.
It's actually a Culinary Arts class and is affiliated with the Pro Start Program developed by the National Restaurant Association Educational Foundation. Included in our instruction is the teaching of the importance of using quality, fresh, local ingredients. 
Who takes these classes?
Our attendees are all Ilwaco High School students.
How long do they last?
 Next year we'll teach Culinary Arts the first semester from September through January. Then second semester we're offering a course in Baking and Pastry through mid-June.
Are they free?
 Yes, they are free to the students with a small supplies fee and students pay for their own Food & Beverage Service Workers permit issued by Pacific County.
What was the menu this last time?
 The students made pasta and tomato sauce from scratch. Their parents are encouraged to attend the final dinner that they make and present.
Why do you take the time to do this on top of everything else that you do?
 We like working with young people and offering them a view into their own potential for success. The prospect of surviving on one's own can be daunting at that age. Also, many students harbor unrealistic expectations of the workplace. We try to prepare them to enter the hospitality job market with a set of tools that give them an edge in hire ability and their own confidence. Teaching the course is also a supplement to our income at a time of economic challenge.
What do you see your students taking away with them? Is it a short amusement, or do a few follow up with it in some way?
 We see both scenarios. But all of them leave with the skill to cook for themselves and others. They learn to prepare delicious, healthy and low-priced meals.
What do you get out of this?
 We have learned that we enjoy passing on what we have learned through our years of experience. Also, when you are constantly teaching the highest standards in our industry, you are reminded of those standards and their importance. 
We have always found things to be "just so" at the Shelburne, due to Laurie and David's meticulous standards. They have tried several times to have someone else manage the restaurant, but it always comes back to them. They keep a small pub on the premises as well, a more relaxed atmosphere offering the same selection of food as the restaurant.
You can be sure that each menu holds a touch of David's passion for the wild and local: fish, shellfish, and especially mushrooms. One year he declared that eating mushrooms and drinking large quantities of mushroom broth had cured him of whatever it was that ailed him.
We go for the flavors, the stories, and the good company. Did I say there was a beach there? Yes, we go for that, too.